Need an easy to use alarm clock?
CountDown 3 is the answer. CountDown lets you time until a specified time with hardly any input, so you'll never miss that football game again. With its intuitive interface, CountDown 3 is a warm welcome to anyones productivity toolbox.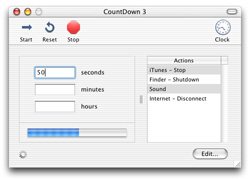 But how does this compare to a normal alarm clock you ask? Well, can your alarm clock make iTunes start playing, or shut your computer down? Connect or disconnect from the internet? CountDown can do this and much much more.

Advanced features for advanced people.
CountDown 3 not only allows you to play any sound of your choice, but it can tell iTunes to stop or start playing
music, or tell your computer that it should shut down or sleep. But you're not only limited to that, as the possibilities are endless with CountDown 3's Shell Script feature. Type in some UNIX code, and CountDown 3 will execute that command when the time is up. With all of these features and more, CountDown 3 is an indispensible utility for pretty much anyone.

Single License
$8

Site License
$49
F.A.Q
Why doesn't the remaining time show when using Count-to?
Currently, we are working to implement that feature, but as of now it doesn't work.
Can I remove the toolbar?
Yup! Just click the toolbar button (the little blue widget on the right of the title bar) to remove it. However there is currently no way to Start, Stop, or Reset the timer without the toolbar. To bring it back, click the toolbar button again.
What if I only want the icon, or text showing?
Hold down the apple (command) key while clicking the toolbar button to cycle through the various views you can use.
Can I change the window opacity like in previous versions of CountDown?
You sure can. Go to the Preferences window and drag the slider to change the opacity of the main window.
Need more answers? Email feedback@waterfallsw.com
System Requirements
Mac OS 10.1 or higher
Download